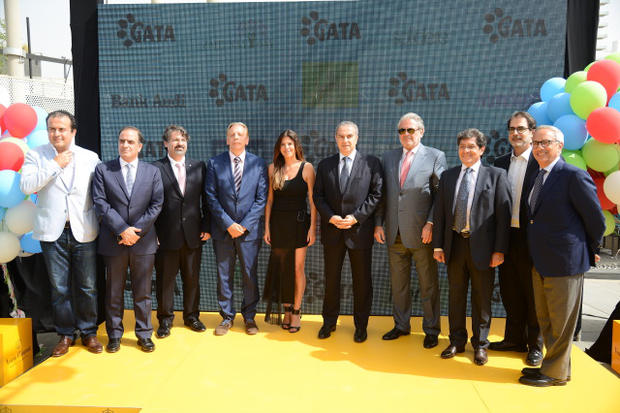 Beirut Designers' Week by Gata Officially Kick-starts in Zaitunay Bay
In the presence of the Minister of Tourism Mr. Michel Pharaon and the Economic Affairs' Advisor at the Ministry of Economy & Trade Professor Jassem Ajaka, Beirut Designers' Week by Gata officially kick-started today at Zaitunay Bay during an official opening ceremony attended by Mrs. Sandra Ghattas, GATA Events & Promotions' Managing Director, Mr. Mounir Doueidy, General Manager of Solidere, key representatives from Beirut Waterfront Development Company in addition to the exhibitors, the media, the sponsors and social figures.
Held under the patronage of the Ministry of Economy & Trade and with the support of the Ministry of Tourism, Beirut Designers' Week by Gata is back this year in its third edition to offer yet again an ideal platform for established and up-and-coming designers to showcase their latest creations to the public and launch their new labels whether in fashion wear and accessories, home déco, furniture or jewelry design.
This year, the event counts more than 85 designers in addition to an activity-packed schedule including fashion shows by participating exhibitors and a fashion show by leading prestigious Italian brand PINKO on Friday 29th May at 6 PM.
Beirut Designers' Week by Gata will also feature 4 live workshops in collaboration with The Agenda Beirut where specialists like Cheryl Azoury, Yvonne Hatem, Nadine Mneimne, Roula Nahas, Hala Reda, Khouloud Reda, Nour Aboulela, and Riri Dada will talk about fashion marketing, unconventional PR, summer trends and live styling, blogging and Instagram, as well as beauty and make up tips. Furthermore, fashion designer and famous media figure Nermine Koleilat will be conducting live interviews with a pool of star guests including: Bag designer Amanda Navai, fashion consultant and designer Mimi Le Blanc, media figure Stephy Saliba, designer Jad Ghandour, and designer Cherine Khadra.
Design students also have their share in this edition with ESMOD BEIRUT organizing a special Alumni exhibition and a live atelier by its current students, while AUST's Fashion Department will have an exhibition of their own to showcase their students' latest designs.
Beirut Designers' Week by Gata is running from the 27th till the 31st of May 2015 all along Zaitunay Bay's lower promenade from 3 PM to 10 PM. It's the biggest edition yet, proving once more that the event has become the favorite platform for designers to launch their new labels and collections.